Archive
FRECCLES Members and Supporters Newsletter edited by Steve Clapham
Eccles Station News - our monthly newsletter edited by Jim Rayner
Northern's rail service nationalised
FRECCLES welcomes the government announcement made on 29th January that Northern would lose its franchise on 1st March 2020. The rail service previously run by Northern, a subsidiary of Arriva, is now run by Northern Trains Ltd, a government-owned company.
There will be no immediate changes to the timetable or to rail services as a result of the take-over. For further information see the government's 1st March press release Northern franchise enters new future. Northern Trains Ltd, advised by a new panel of local leaders, industry and passenger representatives, has been asked to deliver a plan for improvements after the first 100 days.
---
Recent Train Performance
National rail performance figures and Northern performance figures can be found on the comprehensive website trains.im, while performance figures for Eccles (and any other station) can be found on the excellent On Time Trains or Recent Train Times
On Time Trains shows that over the 12 weeks prior to 2nd January 2020, Eccles had a performance score of 56% and ranked 2,608th out of a total of 2,624 UK stations, i.e. only 17th from the bottom !
---
Additional Train to Manchester from Monday 16th December
From Monday 16th December 2019 an additional train to Manchester Victoria and Leeds will call at Eccles at 8.08 a.m. on Mondays to Fridays. This will provide an alternative to the over-crowded 8.14 Piccadilly service for commuters to Manchester.
On Saturdays from 21st December 2019 there will be an additional train to Manchester Victoria and Leeds at 7.08 a.m.
FRECCLES welcomes these extra trains for Eccles, but is still campaigning for 2 trains per hour in each direction throughout the day.
---
New murals at Eccles Station
Art and design students from Pendleton centre, Salford City College, worked with Freccles in 2018-9 to replenish the artwork on the Liverpool platform. We asked them to show the town as they see it - they've done a fantastic job. We have preserved the old banner (also by the college art and design students) in one of the new panels.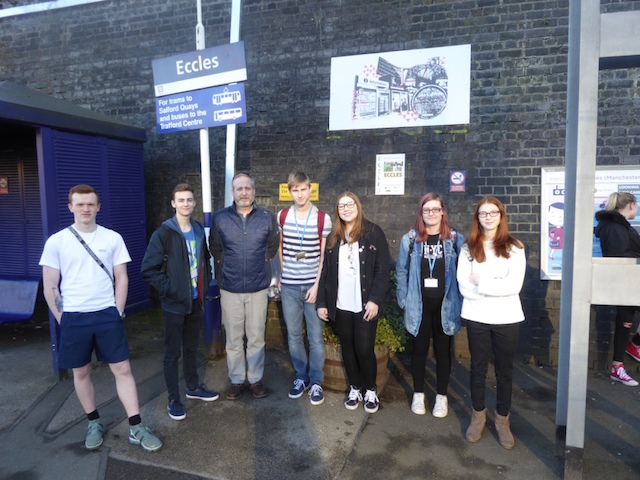 Details and images of all the new panels can be found here.
---
March 2019 - New planters at Eccles Station
New planters, funded by a grant from the Association of Community Rail Partnerships, have been installed on the Liverpool platform.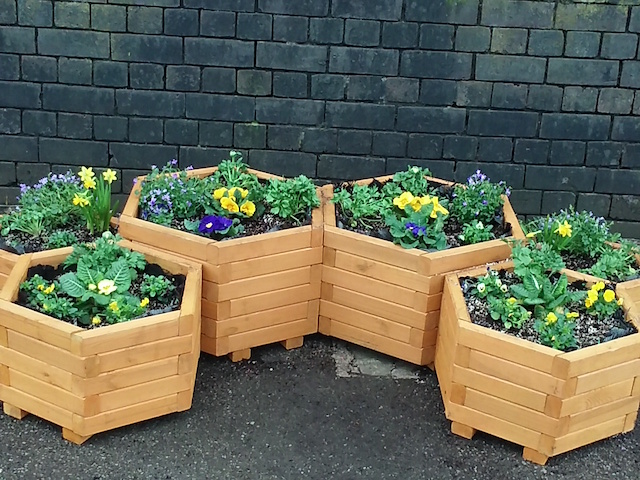 ---
30 July 2018 - New artworks installed at Eccles Station
A series of artworks designed by students at Pendleton College has been installed at Eccles Station, replacing the faded mural which has been there since 2007. Details and images of all the new panels can be found here.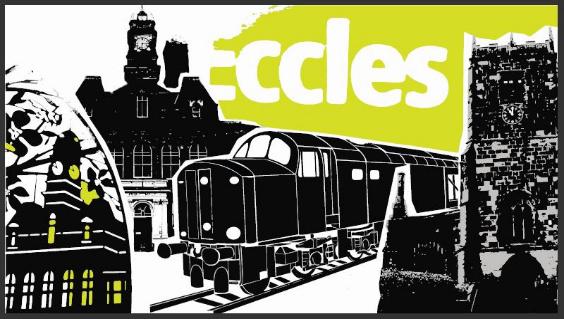 ---
"Standard" timetable resumes on 30th July 2018 - most trains from/to Piccadilly
Northern will re-introduce their "standard" timetable on Monday 30th July. Most trains will run from/to Piccadilly, not Victoria. Trains will be hourly plus one extra in the morning to Victoria and plus one extra from Victoria in the evening. See our timetable page for full details.
Monday - Friday times:
To Deansgate, Oxford Road and Piccadilly
06.10, 07.14, 08.14 and hourly until 16.14, 17.15, 20.14, 21.14, 22.19, 23.20
To Victoria
08.43, 18.07, 19.07, 00.20
To Liverpool Lime Street
05.35, 06.37, 07.37, 08.38 and hourly until 16.38, 17.09, 17.38 and hourly until 20.38, 21.36, 22.40, 23.34, 23.47FO
(05.35, 17.09, 18.38, 19.38, 23.47 from Victoria, others from Piccadilly)
---
Cancellations Produce Chaos
The number of train cancellations since the new timetables were introduced on 20th May 2018 has been horrendous. See here for a list of cancellations of trains calling at Eccles from the May 2018 timetable change onwards.
The interim report of their inquiry into the causes of the May 2018 timetable disaster has been published by ORR. Network Rail, Northern and the DfT are all blamed for not foreseeing that the May 2018 timetable could not be introduced smoothly, and the inquiry found that no-one took overall control once the chaos became apparent. ORR Press release and link to report.
---
Fewer trains at Eccles from 20th May 2018
Northern cuts services and confuses passengers
FRECCLES is angry that there will be fewer trains calling at Eccles from 20th May, not more. We also think that the pattern of trains to/from different Manchester destinations is not well thought out and will confuse passengers.
Up to a month ago Northern had planned to give Eccles 6 more trains each weekday than at present, in line with their franchise commitment. They have now announced that we will get 4 fewer trains each weekday than at present. Eccles will lose 2 trains to Liverpool in the morning peak period, and 2 trains to Manchester in the evening peak period. We are not getting the additional promised services which would have given Eccles 2 trains per hour in the peak periods.
On Saturdays, to Manchester, Northern are withdrawing one train in the morning peak and 2 in the evening peak. To Liverpool, they are withdrawing one train in the morning peak and one in the evening peak.
Most trains will run to/from Piccadilly instead of Victoria. The Piccadilly service will be hourly except for a 3 hour gap in the early evening, when services will run to/from Victoria. Piccadilly trains will also call at Deansgate, Oxford Road, Manchester Airport and all stations to Wilmslow or Crewe. There will still be one additional train to Victoria in the morning on Mondays to Fridays.
Towards the west all trains will run to/from Liverpool Lime Street. The proposed Chester to Leeds service calling at Eccles in peak periods will not commence in May 2018.
The official reason for these cuts is the delay in completion of the Manchester - Preston electrification by Network Rail, and the consequent shortage of diesel-powered trains for Northern. Why this should affect the Eccles line so severely is a mystery.
If you are concerned by these changes, we suggest you complain to Northern by phoning 0800 200 6060 or emailing enquiries@northernrailway.org, and consider joining FRECCLES to help us fight for a decent train service.
You can find full details of the changes on our timetable page.
Read the FRECCLES and FrOPS press release here
---
---
FRECCLES hits Gold !
5 Sept 2016 - FRECCLES has been placed in the Gold Band category by the Association of Community Rail Partnerships (ACoRP) in their It's Your Station awards, following a recent inspection of the Eccles Station gardens by ACoRP judges. Congratulations to everyone who has helped in achieving this.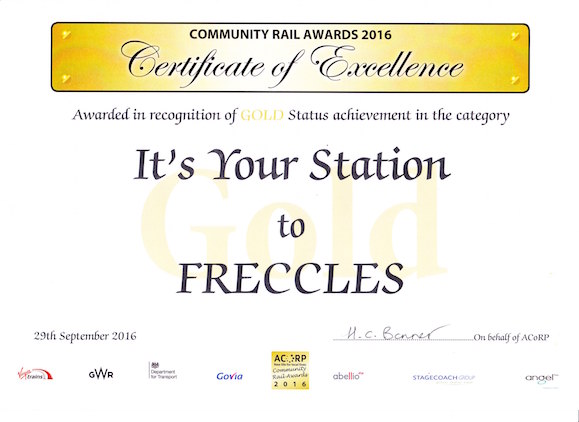 ---
Scots Guardsman steams through Eccles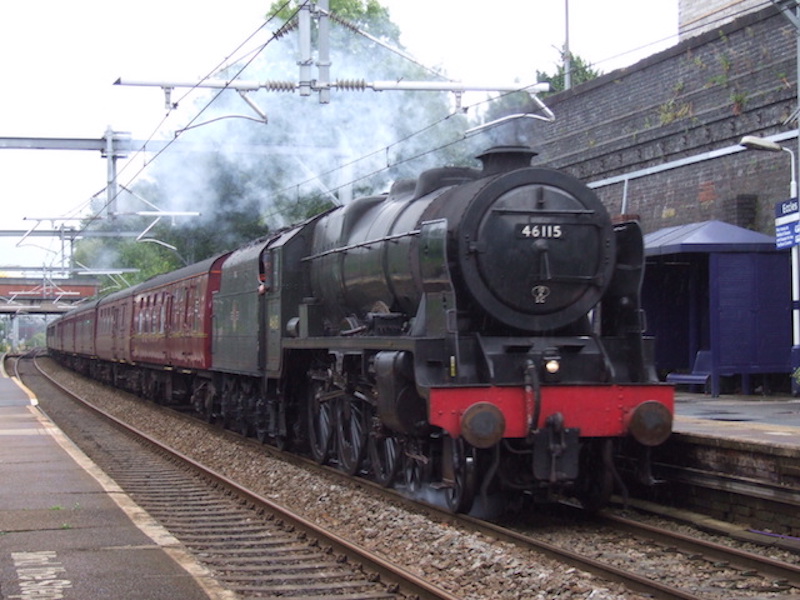 46115 'Scots Guardsman' passing through Eccles on Sunday Aug 21st 2016 with the Crewe-Holyhead North Wales Coast Exp.
---
Survey shows Dramatic Increase in Passenger Numbers
FRECCLES' annual survey of passenger numbers using Eccles station, which took place on Thursday 30th June, showed a dramatic increase of 79% over the comparable 2015 figures. A total of 874 passengers boarded or alighted from trains at Eccles on that day.
The number of passengers boarding to Manchester increased by 90% and the number alighting from Manchester increased by 123%! Clearly the closure of the Eccles Metrolink (tram) line from 26 June for repair work has had a large effect on the number of passengers using the train to travel to and from Manchester. We hope that many of these recruits from the tram service will stay with the train when they realise how quick it is compared to the tram!
Not all the increase is due to substitution from the trams, as is shown by the fact that the number of passengers travelling to and from Merseyside has also increased, by 45% compared to last year. This increase could be due to the attractiveness of the new 4-car electric trains which have eliminated overcrowding and which are proving more reliable than the previous diesel service.
This suggests that approximately half the Manchester increase may be due to the Metrolink closure, and that the other half represents a genuine upturn in passenger numbers. FRECCLES will conduct another survey in the autumn when the Metrolink re-opens in order to verify if indeed there has been a long-term increase.
---
Annual Presentation Meeting 2016
We held our annual Presentation Meeting on Wednesday 13th April at 7 p.m., in Eccles Town Hall (ECHO), Church Street, Eccles M30 OLH (disabled access and lift available; parking free in local car parks from 6pm). The invited speaker was Dr Paul Salveson, rail campaigner and Group Advisor, Community Rail, Arriva UK Trains. Paul is always a lively and interesting speaker and talked about a better deal for rail in the north of England.
Paul's talk was followed by presentations from FRECCLES about current work and future plans, and by a short annual general meeting.
---
Arriva to run Northern trains from April 2016
The government has awarded the new Northern franchise which will start on 1st April 2016 to Arriva Rail North.
Under the new franchise Eccles has been promised a few extra train services in the peak periods. FRECCLES is campaigning for a minimum of two trains per hour in each direction throughout the day, and will be pressing Arriva Rail North to make this happen.
---
At last: real-time train departure indicators at Eccles station
September 2015: Work to install customer information screens, displaying real-time information on train arrivals and departures, has been completed at Eccles station. There are now working screens on each platform, plus one in the booking office. CCTV, Help Points and announcement loudspeakers have also been installed.
So Eccles station is gradually being brought into the twentyfirst century !
---
Cycle Hub now open
June 2015: The Cycle Hub at Eccles Station is now open for business ! If you use the train from Eccles to commute to work, or for any other reason, why not cycle to the station and leave your bike in the secure cycle hub ? For only £10 per year you can use the cycle hub at Eccles (and also those at Altrincham, Ashton-uner-Lyne, Bolton, Bury, Hazel Grove, Leigh, Manchester Oxford Road, Rochdale and Salford Central stations).
For further information and to apply for Cycle Hub membership, go to the TfGM Cycle Hubs web page.
---
FRECCLES' response to rail franchise consultation
FRECCLES recently submitted it's response to the government's consultation on the future of the Northern and TransPennine Express rail franchises, which are due to be awarded to new bidders from April 2016. Our proposals can be summarised as follows:
Develop Eccles as a Rail - Metrolink - Bus - Cycle hub
Provide disabled access at Eccles station
Provide more frequent trains at Eccles
Read our full response here.
May 2015 - Electric Trains are here !
FRECCLES is pleased to confirm that electric trains have replaced most of the diesel trains serving Eccles as from Sunday May 17th. The electric trains are refurbished four-carriage units, and are operating on both the Sunday Liverpool to Manchester Airport route, and the Monday to Saturday Liverpool to Manchester Victoria route. The few remaining diesel trains will all be replaced by electric trains over the next few months.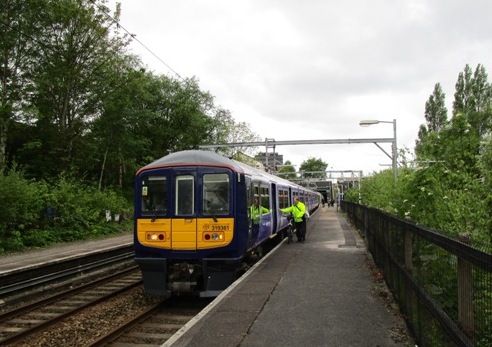 Here it is - the first scheduled electric train to stop at Eccles, 09.02 on Sunday 17th May 2015
There will be no change to the running times yet - we may get speeded-up timetables in December 2015. The only significant timetable change for Eccles from May 17th is that the late evening Monday to Thursday services will at last be operated by trains rather than rail replacement buses. So for first time for many years we will have an all train service !
---
---
April 2015 - Electric Trains announced for Manchester - Liverpool line
On 2nd April the government announced that 4-car electric trains would be provided to Northern Rail in 2014 and 2015 to run services on the newly-electrified North West lines. You can read more about it in Northern Rail's press release - and you may recognise the station in their accompanying picture ! The latest information from the Department of Transport is that the electric trains will operate the services calling at Eccles from May 2015.
---
February 2015 - A few more trains for Eccles ... by December 2017 !
The Northern franchise ITT (Invitation to Tender), published by Department of Transport on 27th February, specifies only a few more trains calling at Eccles per day, from December 2017. FRECCLES is extremely disappointed that the opportunity was not taken to increase our train service to 2 trains per hour in each direction.
Tne ITT is a a minimum service specification, so FRECCLES will be lobbying the three franchise bidders to enhance their bids to include 2 trains per hour throughout the day. We are supported in doing this by Salford City Council and Transport for Greater Manchester, both of which also called for 2 trains per hour at Eccles.
According to the ITT December 2017 will see a change in the train services calling at Eccles: there will be an hourly stopping service between Liverpool Lime Street and Manchester Oxford Road/Piccadilly/Manchester Airport, and peak-period calls by an hourly service between Chester, Manchester Victoria and Leeds.
---
December 2014 - Passenger numbers at Eccles increase once more !
Official station usage estimates for 2013-14 published by the Office of Rail Regulation show that the number of passengers using Eccles Station has increased by 8% since the previous year. Almost 160,000 passengers boarded or alighted at Eccles in the year from April 2013 to March 2014.
This large increase emphasises the justification of FRECCLES' demand for extra rail services for Eccles. Ecccles needs a frequent and reliable train service, not the current one train per hour service.
---
September 2014 - Forecourt Re-development at Eccles Station
The long-awaited re-development of the forecourt at Eccles Station is now substantially complete. The re-development includes:
an expanded public realm that includes an outdoor dining area for the adjacent restaurant
planters and seating
safe pedestrian routes through the forecourt
car parking is restricted to passenger drop-off (with one disabled bay)
a cycle store
This re-develpment is something FRECCLES has been campaigning for for many years, and has been funded by Salford City Council and Eccles Community Committee. FRECCLES has commissioned some art work in the form of station signs whch we hope will be installed in the near future.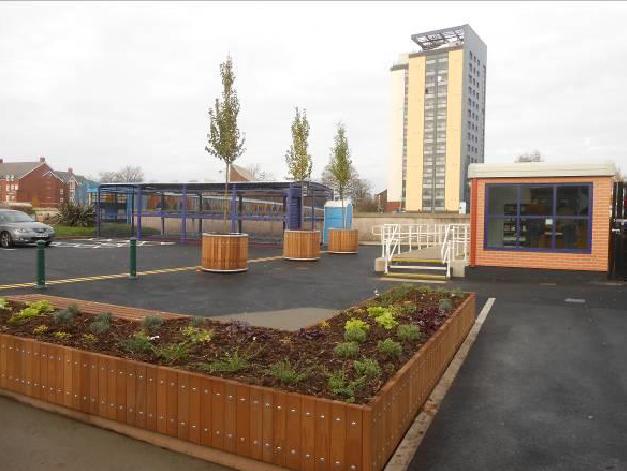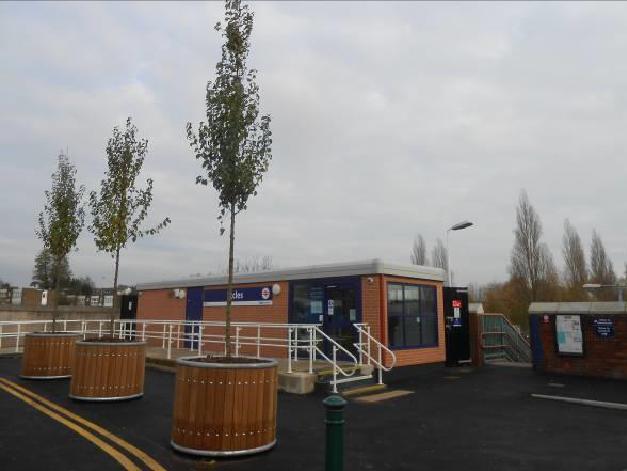 ---
Eccles station debated in Parliament - 26 March 2014
In an adjournment debate in the Houses of Parliament, Hazel Blears MP for Eccles and Salford put a hard-hitting case for an improvement in train services at Eccles. Watch and listen to the debate here (start at 16:38:25, about 2 hours 8 mins into the video). The full transcript of the debate from Hansard is also available.
---
February 2014 - FRECCLES Wish List
FRECCLES and FrOPS presented a prioritised list of aspirations to Transport for Greater Manchester in February. Top of the list is our demand for a 30 minute service for Eccles and Patricroft throughout the day from December 2014.
---
February 2014 - Eccles railway station: passenger numbers steady
Newly released figures from the Office of Rail Regulation show that annual rail passenger numbers using Eccles Station have decreased by 1%, to 147,582 in 2012-13, while the total for all Greater Manchester rail stations has increased by 1.5%. If we had more trains we would get more passengers !
---
11 September 2013 - The new Eccles station building is now open !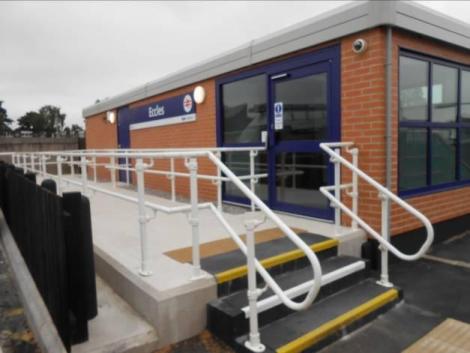 The new Eccles Station Building
The new ticket office is now open for business (Monday - Friday 06:25 - 12:55, Saturday 07:25 - 13:55), and the car park has re-opened.
The new booking office has a waiting area, level access and better staff facilities. The station forecourt remodelling, including installation of a cycle locker, is expected to be progressed by Spring 2014. Further details ...
---
Minister unveils plaque at Eccles station
On 17th July 2013 the Secretary of State for Transport, Rt Hon Patrick McLoughlin MP, visited Eccles station and unveiled a plaque to commmemorate the completion of the first phase of work to electrify the railway line between Liverpool and Manchester. FRECCLES members took the opportunity to push the case for more trains to stop at Eccles, and received a favourable response. Read a full report by our Chair, David Yates. There are more photos on the FRECCLES photo archive and report and video at SalfordOnline.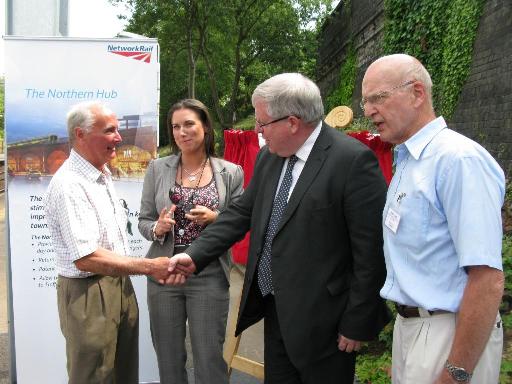 Eoan Edwards (Treasurer, FRECCLES), Councillor Lisa Stone, the Secretary of State, and David Yates (Chair, FRECCLES)
---
Eccles Day, Saturday 18th May 2013
FRECCLES will be part of the Eccles Day celebrations on this Saturday, 18th May, from 10am. We will have a covered stall for people to find out more about FRECCLES and record their stories about Eccles & Patricroft, railways etc. We also have our postcards and beeswax candles for sale. For more information about the day's other events go to www.visitsalford.info/2081.asp
---
February 2013 : Cake Hole Histories
FRECCLES has been awarded a Lottery grant for a new project 'Cake Hole Histories' following on from our well received 'Caked in History' trail and virtual walks. We are recruiting people with memories and memorabilia about Eccles and Patricroft, Eccles Cakes, railways, Bridgewater and Ship Canals, trams, buses and working, living, growing up and going out around them.
For further information see the latest report at SalfordOnline
---
Commemorative Plaque unveiled
Saturday 15th September 2012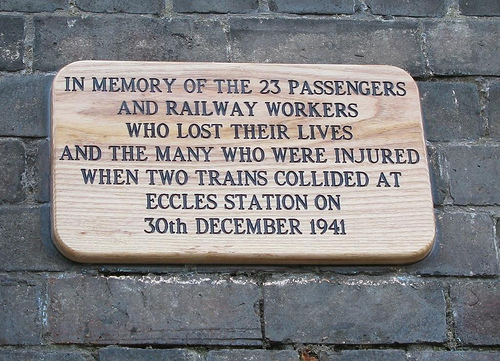 On Saturday 15th September, FRECCLES organised a day of events that culminated in the unveiling of a commemorative plaque in memory of the victims of the rail crash at Eccles on 30th December 1941. The plaque is made of English ash and was made by Steve Willis, a Master Pattern Maker from Leicester on behalf of FRECCLES.
The event was attended by Cllr Bernard Lea, Ceremonial Mayor of Salford and his Mayoress, Ann Cox, Rt Hon Hazel Blears MP, Barbara Keeley MP and Mark Barker of Northern Rail, along with FRECCLES members and a large number of members of the public who had their own memories and stories of the crash on 30th December 1941, some of whom had travelled long distances to attend.
The plaque was unveiled by FRECCLES members Bert and Peter Cresswell, who lost their father, Jack, in the crash. Peter and Bert gave a brief but poignant account of their story and afterwards mentioned that they had a visual reminder of events every time they travelled on the train for many years until the M602 motorway was built, because the previous railway tunnel wall had deep scars caused by the impact of the engines and carriages.
The unveiling was preceded by a well attended, illustrated talk in the Bridgewater Room at Eccles Parish Church, given by Jim Rayner about the crash and the subsequent enquiry.
FRECCLES members also had a small information stall in the Eccles Community Gallery in Boothway during the morning preceding the talk and the unveiling ceremony.
The story of the crash is also told in a large poster at the side of the plaque at the station. The display shows the site of the collision in 1941 overlaid with the present day layout. Reports of the collision were 'hushed up' due to wartime so unless people were directly involved, very few others knew about the tragic events of a foggy winter's day deep in wartime, a very different day from the bright sunshine and clarity that saw the unveiling of the plaque on 15th September 2012.
Large poster about the rail crash (pdf, 2 Mb)
---
Eccles Station Passenger Count 2012
Every year around the end of June FRECCLES conducts a count of the number of passengers boarding and alighting every train for a whole day. Read an analysis of this year's figures prepared by Steve Clapham.
---
Rail Crash Victims Remembered - 30 December 2011
Members of the public joined Freccles to commemorate the 70th anniversary of the 1941 Eccles Rail Crash on 30th December 2011. In spite of it being a wet, cold afternoon, around 20 people held a minute's silence to remember the victims of the crash. Amongst those present were Bert and Peter Cresswell, whose father Jack died in the crash, and other relatives of those who died, who were aware of the commemoration through the Salford Advertiser.
The local media in the shape of representatives of the "Advertiser" and "Salford Online" covered the commemoration, drawing attention to Freccles' campaign to install a permanent plaque to mark the crash. Hopefully funding problems will be overcome in 2012, and we will be able to install the plaque on the wall of the Liverpool platform.
Members of the Freccles Heritage Group also produced a display for the station's poster cases to commemorate the crash, concentrating on the memories of the relatives of those involved, which had a significant impact on Eccles and other local towns, as well as leading to improvements in work and safety practices nationwide in the longer term.
A video and fuller report of the commemoration can be viewed at SalfordOnline.
More details of the 1941 Eccles Rail Crash can be found on our Heritage pages.
---
March 2011: Alliance Rail is to put in an updated bid to the Office of Rail Regulation (ORR) to run a new two-hourly high speed rail service between Bradford and London, calling at Eccles, from December 2013. If the bid is successful, Alliance Rail will modernise Eccles Station and provide lifts to the platforms, which would be a great improvement. The ORR has called on the rail industry to develop a new timetable for the West Coast Main Line from that date, and Alliance Rail are hoping that will leave the way open for them to introduce their proposed service. Read Alliance Rail's Briefing Note on WCML Track Access Rights.
---
---
FRECCLES Exhibition in Eccles Centre
The exhibition 'Eccles Reconnected: Past Present and Future' is running until Saturday 12th November in Eccles Community Art Gallery in Southway, Eccles (nr Silcocks Greengrocers). This exhibition is of photos taken by Mark Charnley and curated by FRECCLES of the works to prepare & renew the railway bridges in Eccles for the forthcoming electrification. The Exhibition is open between 10am and 4pm on Saturdays and 12 til 3pm on Tuesdays. During the exhibition days members of FRECCLES will be on hand to answer questions and we are also selling our Postcards showing the pre-1971 buildings and Lavender Sachets, made by FRECCLES using lavender harvested from our garden at the station. All proceeds from the sales go back into the work of FRECCLES at the station!
---
Caked in History
A circular, interactive and guided health walk from Eccles to Worsley, Monton and Patricroft linking the heritage of the Bridgewater Canal and the railway, and Launch of the self-guided illustrated trail booklet "Caked in History" written and produced by FRECCLES & FrOPS.
The guided health walk takes place on Saturday 10th September at 10.30 a.m., and on Sunday 11th September at 12.30 p.m., both from Eccles railway station, and will take up to 4 hours but will have frequent stops! For more information/book places, see the Heritage Open Day page, or call (0161) 789 5016 or email info@freccles.org.uk
---
30 November 2010: Heritage Posters installed at Eccles Station
During 2010 Freccles heritage group has worked with BTEC Art and Design students from Salford City College, Eccles Sixth Form Centre, to produce a series of posters illustrating the history of the Station in the Community.
The posters can now be seen in place at Eccles Station.
---
Eccles Station Open Day - 11 September 2011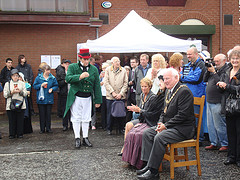 Eccles Station Open Day - see our full report
FRECCLES celebrated its 5th Birthday with an open day at the station and gardens on Saturday 11th September, officially opened by the Mayor of Salford, Cllr George Wilson.Despite the weather there was a tremendous turnout, and everyone had a very good time.
The Barton Players commencing their play "Journey's End for Mr Huskisson!" before the Mayor and Lady Mayor of Salford at Eccles Station Open Day on Saturday 11 September 2010.
---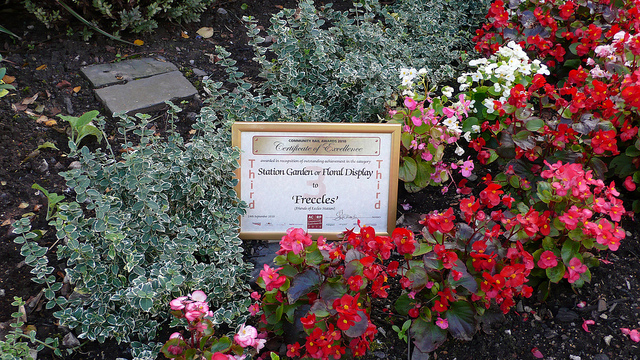 FRECCLES are pleased to announce that the gardens and planters that they have been creating over the past five years at Eccles station have been awarded Third place by the judges from the Association of Community Rail Partnerships (ACoRP) "in recognition for their outstanding achievement in the category of Station Garden or Floral Display" in the national Community Rail Awards 2010.
The award was presented at a gala dinner and presentation ceremony held at the Cliffs Pavilion in Westcliff on Sea in Essex on Friday 24th September 2010. Elizabeth Charnley, Secretary of FRECCLES for the past five years, received the award on behalf of her colleagues at FRECCLES.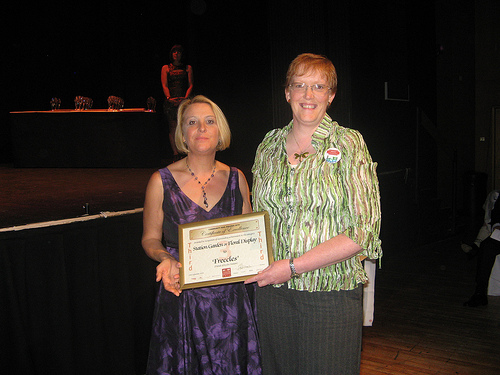 Speaking after the ceremony, Elizabeth Charnley said
"This award is a superb achievement and recognition of our work over the past five years and spurs us on even more to continue our work going forwards to maintain the work we have already done and continue with our plans for an alpine rockery and a wildlife garden on the Liverpool-bound platform. We would like to thank all those who have supported us so far with funding or assistance, including Eccles Community Committee, Salford City Council, Northern Rail, Network Rail, O2 (It's your community) and GMPTE.
This award truly belongs to all our members who have turned out (in all weathers) at the clearing, planting and planning sessions over the past five years or have given us donations and subscriptions to help pay for the plants, bulbs and equipment that have produced the display we have today and has won us this award. When we started five years ago, the station looked very unloved and unwanted and was not an attractive place to catch a train to or from. The award is such a wonderful crowning glory to the same month that we celebrate our fifth birthday and stage our first open day that included tours of what is now our award winning garden!
Recently, a senior member of railway management staff referred to our station as a 'flagship on the line', something that we are immensely proud of, but to have our work recognised independently and nationally is something very special and makes all the hard work worthwhile. We have been advised that the 'Station Gardens or Floral Display' category is one of the most keenly contested in the Awards and to receive a place in the category is a real achievement.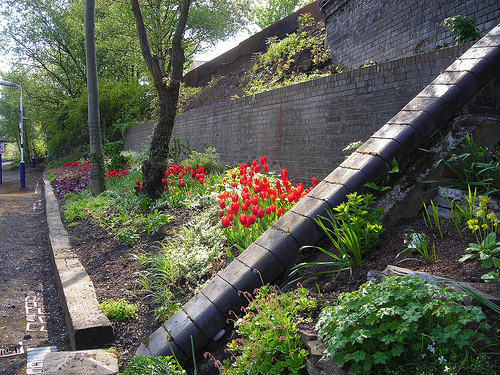 Our work will continue and we will be meeting again for the next clearup and planting session on the first Sunday of every month at 11am if anyone (over the age of 18) would like to come and help us in our work, please come along to the station on the day or give us a ring on 0161 789 5016 or email info@freccles.org.uk"
---
September 2010: More Days Out from Eccles Station
The first fifty itineraries in Trips out from Eccles Station have proved to be quite popular! Therefore Jim Rayner has produced fifty new ones in a companion volume, More Days Out from Eccles Station, published to mark the 180th anniversary of the opening of Eccles Railway Station. Copies are available from Jim for £4 and the individual walks are available here on the Freccles website.
---
5th August 2010: Freccles gardens short listed for award
The Association of Community Rail Partnerships (ACoRP) introduced Community Rail Awards in 2005 so that "the unsung heroes and heroines of the community rail world would have their hard work and dedication publicly recognised and rewarded. The emphasis of the awards is on rewarding excellence and promoting best practice in community rail development, recognising ordinary people doing extraordinary things on behalf of the railway and the community."
ACoRP has just published the short list for this year's awards and Freccles has been shortlisted in the "Best Station Garden or Floral display" section. The winner will be announced at an awards ceremony in Westcliffe-on-Sea on 24th September.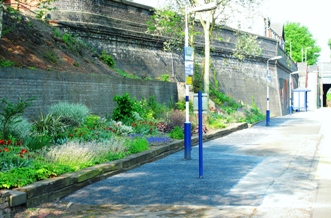 Here are the finalists:
Hutton Cranswick
Freccles
Stonehaven
Poulton-le-Fylde
North Berwick
Cupar
We'll keep you posted on the outcome. Wish us luck!
Eccles Station garden in May 2010
---
3 April 2010: New interchange signs for Eccles Station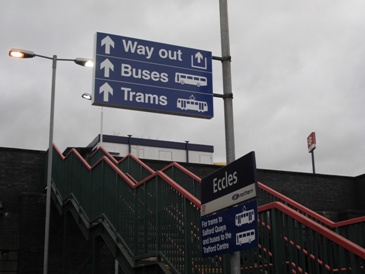 After a long campaign by FRECCLES, new interchange signs have been erected on both platforms at Eccles station. They indicate that passengers can alight at Eccles to change for trams to Salford Quays, or for buses to the Trafford Centre.
FRECCLES would like to thank the GMPTE and Northern Rail for jointly funding these new signs. We hope they are the first step towards making Eccles an important interchange hub between rail, tram and bus.
---
23 July 2009: Government announces electrification of Manchester - Liverpool line
The Department for Transport has announced that work is to start immediately on the Electrification of the Manchester to Liverpool railway line through Eccles. The work will take 4 years to complete. Passengers will notice improvements to speed, reliability and comfort as electric trains are not only quicker, but quieter, smoother and more reliable than diesels.
FRECCLES will campaign hard to ensure that Eccles gets a frequent train service to both Manchester and Liverpool when electrification is completed.
---
June 2009: Book Trips Out from Eccles Station Launched at Eccles Gateway centre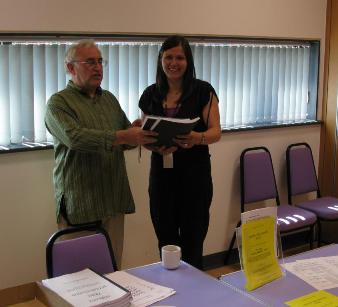 Jim Rayner presenting copies of his book to Hannah Quinlan
Friends of Eccles Station (Freccles) member and volunteer Jim Rayner has written and published his first volume of 'Trips Out from Eccles Station' and the official launch and presentation of copies of the book for Eccles, Hope and Winton Libraries was held on Monday 29th June 2009.
The book is a collection of 50 trips that are designed to inspire people to explore greater Manchester and further afield in their leisure time but with the starting & finishing point always at Eccles or Patricroft railway stations.
Jim (Rayner) says "For longer than I'm prepared to admit, I have taken little trips out from Eccles or Patricroft stations and I have compiled them to be a source of inspiration and promote travel by train from our local stations. These fifty trips are intended mainly to be pleasurable rather than challenging. Most of the walks can be fitted into a morning, afternoon or an early evening in summer."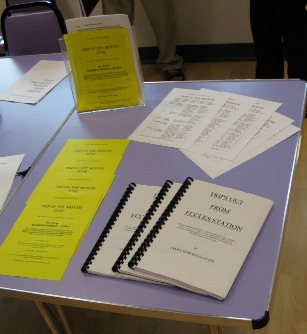 The book Trips Out from Eccles Station
The funding for the publication and printing was granted to Freccles by Eccles Community Committee and members of Freccles and other local people joined Jim as he talked about his book and presented the copies to Hannah Quinlan from Eccles Library.
The libraries at Eccles, Hope and Winton have copies of the book available for reference and photocopies can be made of walks of interest.
Elizabeth Charnley, Secretary of Freccles says "We are very proud of Jim's excellent and inspiring work and hope that it will encourage more people to use the train from Eccles station to start their leisure trips out. As part of their journey they will be able to see the work Freccles has been doing to change the look of the station.
We welcome new people to join us with our work on the station, no special skills required; we need people who are happy to do a spot of light weeding or litter clearing through to people to help us with heavier work such as digging and lifting.
Since we started in 2005 we have secured several thousand pounds worth of cash funding and other benefits that have made a vast improvement to a once neglected eyesore station. We regularly receive positive comments from people who have not visited the station for a while and from railway staff who say that it is a pleasure to stop at Eccles Station and see the changes."
---
6th December 2008: World Heritage Site bid for Liverpool and Manchester Railway ?
Salford City Council is bidding for the historic Liverpool and Manchester Railway, which includes Eccles station, to be listed as a UNESCO World Heritage Site. The line, the first main line passenger railway line in the world, opened in 1830. Manchester Evening News, 6/12/2008
---
21 October 2008: Freccles representatives at House of Commons Reception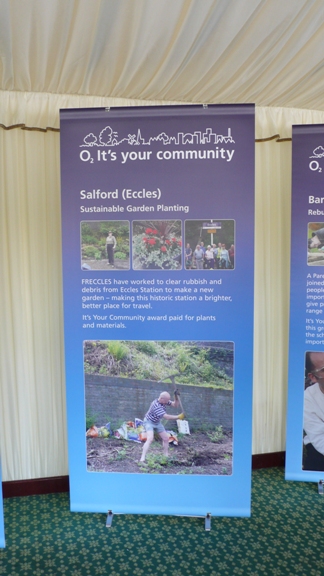 Janice Clapham and Elizabeth Charnley were privileged to be invited to the House of Commons to take part in a reception for groups that had received funding from the O2 It's your community fund. O2 have made this splendid banner for Freccles, depicting enthusiastic Freccles gardeners !
---
16th November 2007: Bishop of Manchester joins Freccles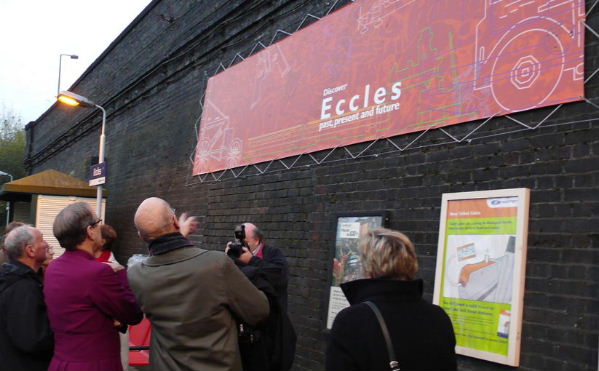 Members of Freccles were invited to meet the Bishop of Manchester, the Rt Revd Nigel McCulloch, when he arrived at Eccles Station on the 16:01 from Manchester Victoria as part of his pilgrimage visit to Eccles on Friday 16th November 2007. Read the full story here.
---
24th September 2007: Christopher Eccleston unveils new mural at Eccles Station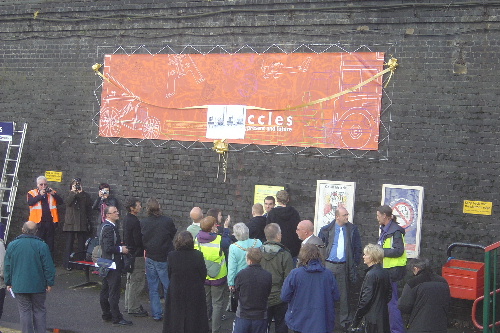 To mark its second anniversary, FRECCLES has commissioned an exciting mural, which was unveiled at Eccles station on 24th September 2007 by local actor Christopher Eccleston. Chris is an old boy of Eccles College, four of whose arts students designed the mural.
The mural, which invites visitors to Eccles to discover the past, present and future of the town, incorporates historical and contemporary motifs, including eight Eccles cakes. It marks an important step in the improvement of Eccles station and its facilities, which is one of the main aims of FRECCLES. Full report and photos.
FRECCLES have teamed up with our very good friends at Lancashire Eccles Cakes Ltd to treat (whilst stocks last) everyone who catches a train to or from Eccles station on 19th March to a free Eccles Cake, specially badged for the event with the FRECCLES logo (as seen on our website.) The cakes will be offered to everyone catching or leaving a train at Eccles Station from the 9.36am departure onwards on Saturday 19th March 2011 and will be available as long as stocks last.
The event has been arranged in partnership with ACoRP: the Association of Community Rail Partnerships who support station friends groups at stations all over the UK including FRECCLES. The idea behind this event is to show that rail travel is for local journeys as well as long distance travel and that local stations are part of the national rail network just as much as the major stations in large towns and cities and support local economies by being faster and often cheaper options for travel especially for commuters. From Eccles station you can travel to Manchester in just 7 minutes and be directly placed for working in the city centre or be able to visit major attractions for leisure and culture: MEN arena, shops in Market Street and Cross Street, the Printworks cinema and entertainment complex, Manchester Cathedral and historic Deansgate to name some that are within a few minutes walk of Manchester Victoria station. Eccles station is also a gateway to 100 destinations for short trips and full days out, all compiled by FRECCLES member, Jim Rayner.
Why not choose the train to travel to Manchester on Saturday or pick a destination from our extensive selection of trips and days out online, get down to Eccles Station to start your journey and pick up a free Eccles Cake to munch on the way? We'd love to see you!
---
Eccles Station Open Day
We celebrated 180 years of railways in Eccles at our Open Day (11 September 2010) - full programme here !
---
Interview with Freccles chairman, David Yates
Read David Yates' interview about Freccles and the regeneration of Eccles which appeared in the
Manchester Evening News on 29 April 2009.
---
Greater Manchester Future Transport (TIF) Consultation 2008
---
Wanted - pictures of old Eccles station - November 2007
---
FRECCLES survey results - Spring 2006
---
---
North West Route Utilisation Strategy