New Mural for Eccles Station
Official Launch of the 'Discover Eccles: Past, Present & Future' Mural 24th September 2007
A highlight for Freccles was reached on Monday September 24th 2007 when star of stage, screen,& TV, Christopher Eccleston, officially unveiled the mural, which was specially commissioned by Freccles to help improve the visual image of the station. The mural was designed to Freccles requirements by students from Eccles College. As a former student; Christopher Eccleston was pleased to lend his support for the College and Freccles.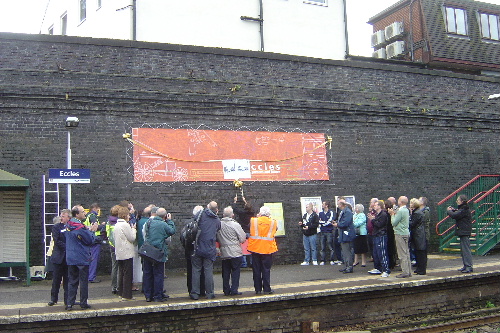 The ceremony was attended by the Mayor of Salford, Councillor Valerie Burgoyne, representatives from Greater Manchester Passenger Transport Executive (GMPTE), Northern Rail and the Association of Community Rail Partnerships (ACoRP) as well as other community representatives plus staff and students of Eccles College. The Chairman of Freccles, David Yates, opened the proceedings before handing over to Eoan Edwards, Treasurer and leading light behind the project. Stuart Wattam, Principal of Eccles College, spoke about the project before handing over to Christopher Eccleston to officially unveil the mural.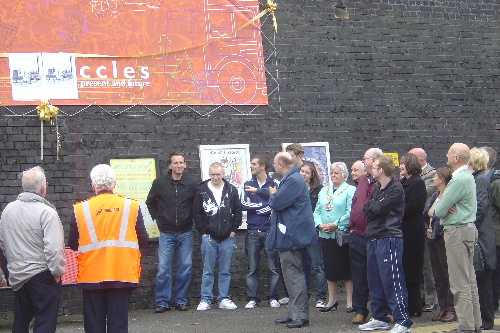 The whole event was a great success and was a significant step forward for Freccles, both in terms of improving the image of the station but also raising the public profile of the group.
Our thanks go especially to:
Eccles College students Matthew Hulme, Rebecca Greenhalgh, Jason Cottrell and Garry Stretton-Bernabe who produced the banner
Christopher Eccleston for his role at the ceremony
Northern Rail for their sponsorship of the installation of the mural
The Lancashire Eccles Cake Company for supplying Eccles Cakes for all the guests
The Rotary Club of Eccles, for their kind donation towards the Mural project
and to Eoan Edwards for all his hard work in making this project such a success.