Eccles Station Heritage - Some Memories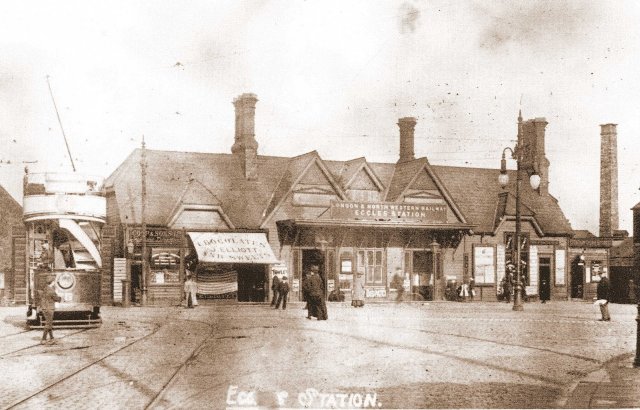 Eccles Station in 1900
---
Eccles Station in 1968 - photo George Woods
---
If you have memories or photographs of Eccles station that you would be willing to share with us, FRECCLES would appreciate your contributions. Please email to anntaverneruk@aol.com or come in to Eccles art gallery in Southway between 11am and 1pm on Saturdays and talk to one of our members.
---
Are you interested in more images of Eccles over the past century? Mark Fynn is a postcard dealer who lives in Eccles who is establishing a website www.manchesterpostcards.com of his collection. He is starting with putting antique cards from the Eccles and district area onto his site, and will then move onto Worsley, Salford, Manchester Ship Canal and lastly Manchester Tram postcards.
---
Watch these videos showing various aspects of the history of Eccles by
Eccles Filmmakers
and
Eccles Traders
:
---
During 2010 Freccles heritage group has worked with BTEC Art and Design students from Salford City College, Eccles Sixth Form Centre, to produce a series of posters illustrating the history of the Station in the Community.
The posters can now be seen in place at Eccles Station.
---
Eccles Station in the 1930s and 40s: here are some memories -
page 1
and
page 2
- by Audrey Bagnall. Audrey Bagnall grew up in Eccles in the 1930s, and she has many recollections of the Station being at the centre of the town. In days before widespread car ownership, train travel featured in most people's lives to a much greater extent than today.
---
Read about the terrible
1941 Railway Accident at Eccles
, in which 23 passengers died.
---
The Station in the 1950s - Childhood memories, work and courtships....
---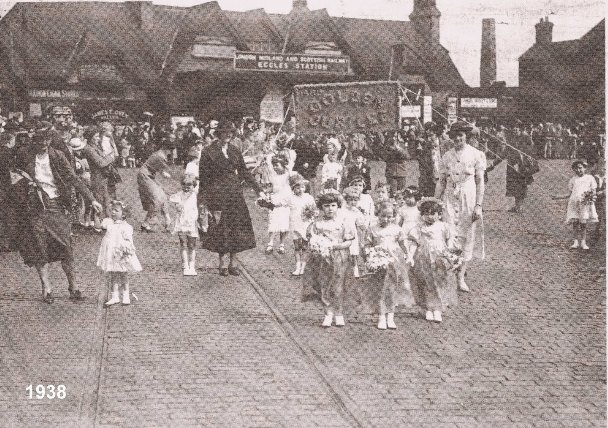 Whit Walks in 1938
---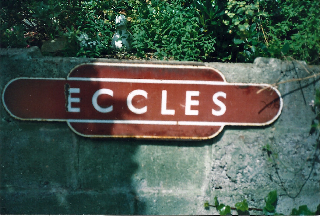 The old Eccles Station sign, photo reproduced by permission of Audrey Bagnall
---