News
Eccles Station News - Spring 2018
Please see the current edition of our monthly newsletter, Eccles Station News. Please note that contrary to the information given on page 10, Sunday trains DO call at Patricroft.
---
FRECCLES hits Gold !
5 Sept 2016 - FRECCLES has been placed in the Gold Band category by the Association of Community Rail Partnerships (ACoRP) in their It's Your Station awards, following a recent inspection of the Eccles Station gardens by ACoRP judges. Congratulations to everyone who has helped in achieving this.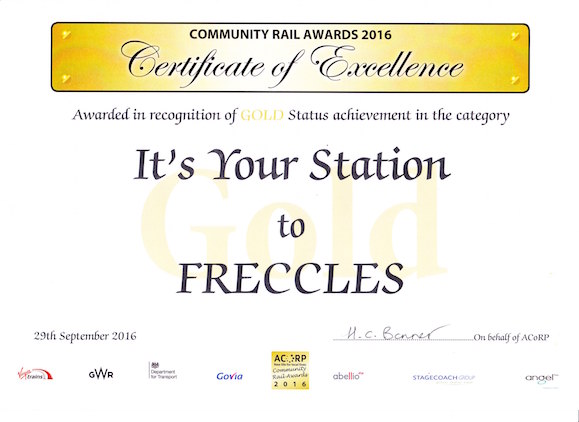 ---
Scots Guardsman steams through Eccles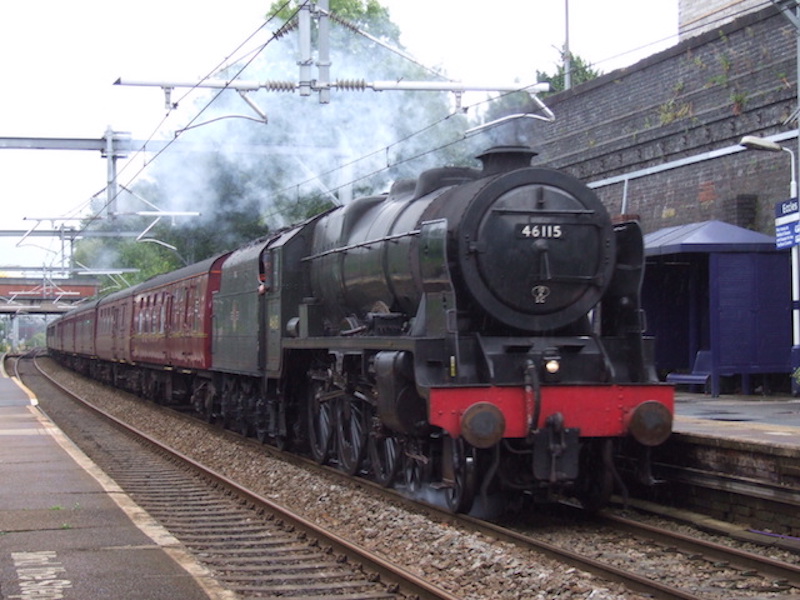 46115 'Scots Guardsman' passing through Eccles on Sunday Aug 21st 2016 with the Crewe-Holyhead North Wales Coast Exp.
---
Survey shows Dramatic Increase in Passenger Numbers
FRECCLES' annual survey of passenger numbers using Eccles station, which took place on Thursday 30th June, showed a dramatic increase of 79% over the comparable 2015 figures. A total of 874 passengers boarded or alighted from trains at Eccles on that day.
The number of passengers boarding to Manchester increased by 90% and the number alighting from Manchester increased by 123%! Clearly the closure of the Eccles Metrolink (tram) line from 26 June for repair work has had a large effect on the number of passengers using the train to travel to and from Manchester. We hope that many of these recruits from the tram service will stay with the train when they realise how quick it is compared to the tram!
Not all the increase is due to substitution from the trams, as is shown by the fact that the number of passengers travelling to and from Merseyside has also increased, by 45% compared to last year. This increase could be due to the attractiveness of the new 4-car electric trains which have eliminated overcrowding and which are proving more reliable than the previous diesel service.
This suggests that approximately half the Manchester increase may be due to the Metrolink closure, and that the other half represents a genuine upturn in passenger numbers. FRECCLES will conduct another survey in the autumn when the Metrolink re-opens in order to verify if indeed there has been a long-term increase.
---
Annual Presentation Meeting 2016
We held our annual Presentation Meeting on Wednesday 13th April at 7 p.m., in Eccles Town Hall (ECHO), Church Street, Eccles M30 OLH (disabled access and lift available; parking free in local car parks from 6pm). The invited speaker was Dr Paul Salveson, rail campaigner and Group Advisor, Community Rail, Arriva UK Trains. Paul is always a lively and interesting speaker and talked about a better deal for rail in the north of England.
Paul's talk was followed by presentations from FRECCLES about current work and future plans, and by a short annual general meeting.
---
Arriva to run Northern trains from April 2016
The government has awarded the new Northern franchise which will start on 1st April 2016 to Arriva Rail North.
Under the new franchise Eccles has been promised a few extra train services in the peak periods. FRECCLES is campaigning for a minimum of two trains per hour in each direction throughout the day, and will be pressing Arriva Rail North to make this happen.
---
At last: real-time train departure indicators at Eccles station
September 2015: Work to install customer information screens, displaying real-time information on train arrivals and departures, has been completed at Eccles station. There are now working screens on each platform, plus one in the booking office. CCTV, Help Points and announcement loudspeakers have also been installed.
So Eccles station is gradually being brought into the twentyfirst century !
---
Cycle Hub now open
June 2015: The Cycle Hub at Eccles Station is now open for business ! If you use the train from Eccles to commute to work, or for any other reason, why not cycle to the station and leave your bike in the secure cycle hub ? For only £10 per year you can use the cycle hub at Eccles (and also those at Altrincham, Ashton-uner-Lyne, Bolton, Bury, Hazel Grove, Leigh, Manchester Oxford Road, Rochdale and Salford Central stations).
For further information and to apply for Cycle Hub membership, go to the TfGM Cycle Hubs web page.
---
FRECCLES' response to rail franchise consultation
FRECCLES recently submitted it's response to the government's consultation on the future of the Northern and TransPennine Express rail franchises, which are due to be awarded to new bidders from April 2016. Our proposals can be summarised as follows:
Develop Eccles as a Rail - Metrolink - Bus - Cycle hub
Provide disabled access at Eccles station
Provide more frequent trains at Eccles
Read our full response here.
---
May 2015 - Electric Trains are here !
FRECCLES is pleased to confirm that electric trains have replaced most of the diesel trains serving Eccles as from Sunday May 17th. The electric trains are refurbished four-carriage units, and are operating on both the Sunday Liverpool to Manchester Airport route, and the Monday to Saturday Liverpool to Manchester Victoria route. The few remaining diesel trains will all be replaced by electric trains over the next few months.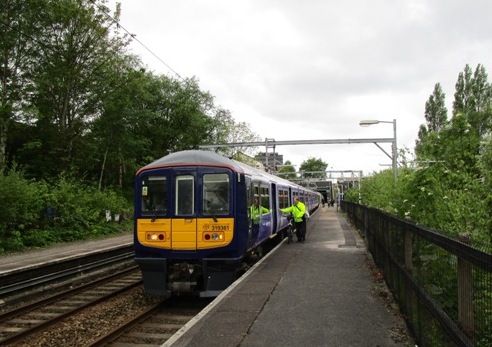 Here it is - the first scheduled electric train to stop at Eccles, 09.02 on Sunday 17th May 2015
There will be no change to the running times yet - we may get speeded-up timetables in December 2015. The only significant timetable change for Eccles from May 17th is that the late evening Monday to Thursday services will at last be operated by trains rather than rail replacement buses. So for first time for many years we will have an all train service !
---
September 2014 - Forecourt Re-development at Eccles Station
The long-awaited re-development of the forecourt at Eccles Station is now substantially complete. The re-development includes:
an expanded public realm that includes an outdoor dining area for the adjacent restaurant
planters and seating
safe pedestrian routes through the forecourt
car parking is restricted to passenger drop-off (with one disabled bay)
a cycle store
This re-develpment is something FRECCLES has been campaigning for for many years, and has been funded by Salford City Council and Eccles Community Committee. FRECCLES has commissioned some art work in the form of station signs whch we hope will be installed in the near future.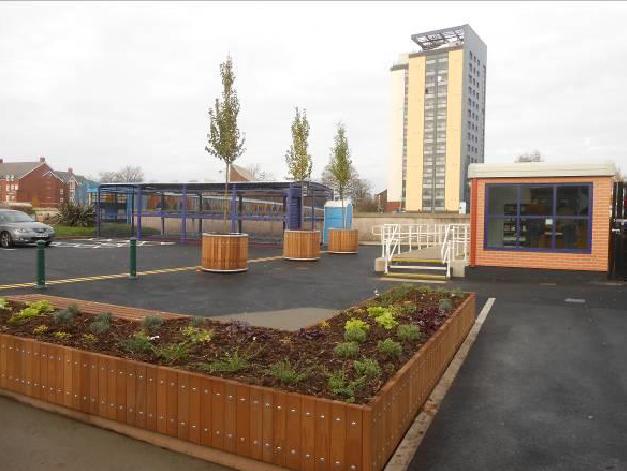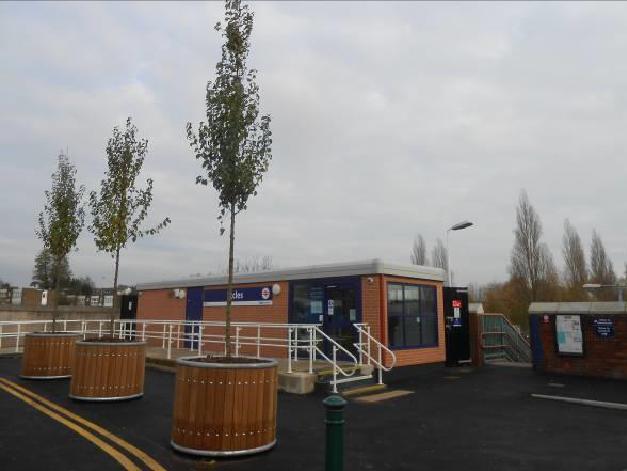 ---
---