Visit by Bishop of Manchester
Freccles welcomes a new Friend at Eccles Station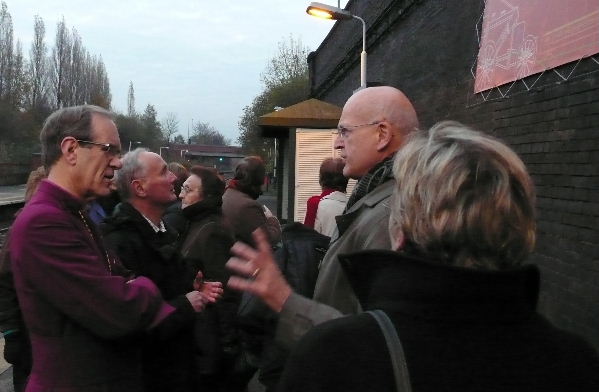 Members of Freccles were invited to meet the Bishop of Manchester, the Right Rev'd Nigel McCulloch, when he arrived at Eccles Station on the 16:01 from Manchester Victoria as part of his pilgrimage visit to Eccles on Friday 16th November 2007. We took the opportunity to show the Bishop the work we have been doing as a group with the garden area and the Discover Eccles mural. Bishop Nigel was very interested in the work we have been doing and the fundraising we have achieved, including our success through the O2 'It's Your Community' fund bid.
We were most pleased to later have him sign up as an honorary 'Freccle' and in doing so we featured in his sermon at the community service held later, the subject being the 'Parable of the Talents.'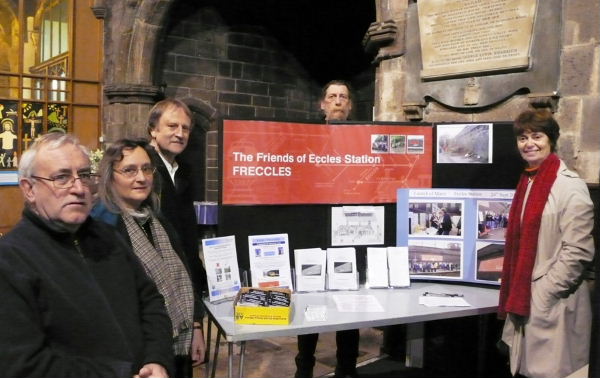 We thank the PCCs of St Andrew's & St Mary's Parish Churches for giving us the opportunity to meet with their distinguished visitor and to Bishop Nigel for giving us his patronage as an honorary member.
If anyone wishes to join such distinguished company and become a member of Freccles, please contact our secretary on 0161 789 5016 for a membership form or e-mail info@freccles.org.uk