FRECCLES - Friends of Eccles Station
---
* Click here for real-time train running information for Eccles *
---
CORONAVIRUS UPDATE
July 2020. FRECCLES is gradually restarting activities at the station in line with government and rail industry advice. Please contact FRECCLES for the up-to-date situation.
You must wear a face covering when using the train. Train services are running to amended timetables. Please see our timetable page for details.
---
Northern's rail service nationalised
FRECCLES welcomes the government announcement made on 29th January that Northern would lose its franchise on 1st March 2020. The rail service previously run by Northern, a subsidiary of Arriva, is now run by Northern Trains Ltd, a government-owned company.
There will be no immediate changes to the timetable or to rail services as a result of the take-over. For further information see the government's 1st March press release Northern franchise enters new future. Northern Trains Ltd, advised by a new panel of local leaders, industry and passenger representatives, has been asked to deliver a plan for improvements after the first 100 days.
---
FRECCLES AGM CANCELLED
The FRECCLES Annual General Meeting planned for Tuesday 31st March 2020 has been cancelled because of the coronavirus epidemic
---
Recent Train Performance
National rail performance figures and Northern performance figures can be found on the comprehensive website trains.im, while performance figures for Eccles (and any other station) can be found on the excellent On Time Trains or Recent Train Times
On Time Trains shows that over the 12 weeks prior to 2nd January 2020, Eccles had a performance score of 56% and ranked 2,608th out of a total of 2,624 UK stations, i.e. only 17th from the bottom !
---
Additional Train to Manchester from Monday 16th December
From Monday 16th December 2019 an additional train to Manchester Victoria and Leeds will call at Eccles at 8.08 a.m. on Mondays to Fridays. This will provide an alternative to the over-crowded 8.14 Piccadilly service for commuters to Manchester.
On Saturdays from 21st December 2019 there will be an additional train to Manchester Victoria and Leeds at 7.08 a.m.
FRECCLES welcomes these extra trains for Eccles, but is still campaigning for 2 trains per hour in each direction throughout the day.
---
New murals at Eccles Station
Art and design students from Pendleton centre, Salford City College, worked with Freccles in 2018-9 to replenish the artwork on the Liverpool platform. We asked them to show the town as they see it - they've done a fantastic job. We have preserved the old banner (also by the college art and design students) in one of the new panels.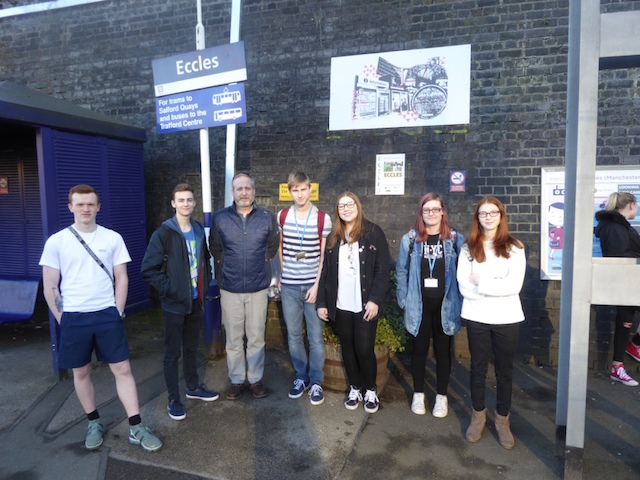 Details and images of all the new panels can be found here.
---
March 2019 - New planters at Eccles Station
New planters, funded by a grant from the Association of Community Rail Partnerships, have been installed on the Liverpool platform.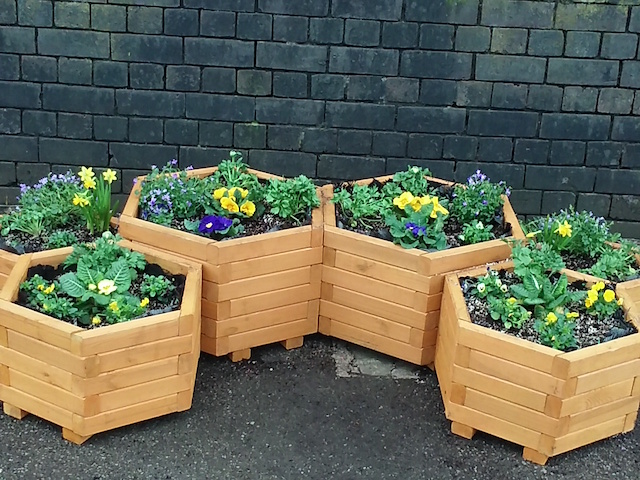 ---
Who are FRECCLES ?
FRECCLES was established on 15th September 2005, the 175th anniversary of the opening of the world's first main line passenger railway between Manchester and Liverpool through Eccles on 15th September 1830. Working in partnership with ACoRP, TfGM, Salford City Council, Northern Rail and Network Rail, we aim to improve the environment and passenger services at Eccles Station and the immediate surrounding area and to put the station back into the heart of the community.
Now in its fifteenth year, FRECCLES can claim to be well on the way to achieving many of these objectives. Certainly we have the strong support of all the above organisations, which recognise the work we have carried out to transform the appearance of the station. This recognition has been accompanied by significant funding which has heped us, for example, in our gardening work. However, we still lack a frequent train service - surely the most important facility one would hope to find at a railway station - and one which our many supporters in the local community expect us to correct at a stroke !
Freccles has a membership of around 40 and at least half of these are very active, being members of at least one of our subgroups - Service Development, Gardening, Heritage, Publicity and Funding. Some of these groups have separate sections on this website where you can find out more about their work. If you would like to join us, or to find out more about FRECCLES, you can contact us by email at info@freccles.org.uk or visit the Freccles page on Facebook.
---