FRECCLES - Friends of Eccles Station
---
* Click here for real-time train running information for Eccles *
---
February 2019 - RMT Strike Action Suspended
The RMT strike action has been suspended, and normal Saturday services will resume on Saturday 16th February.
---
30 July 2018 - New artworks installed at Eccles Station
A series of artworks designed by students at Pendleton College has been installed at Eccles Station, replacing the faded mural which has been there since 2007. Details and images of all the new panels can be found here.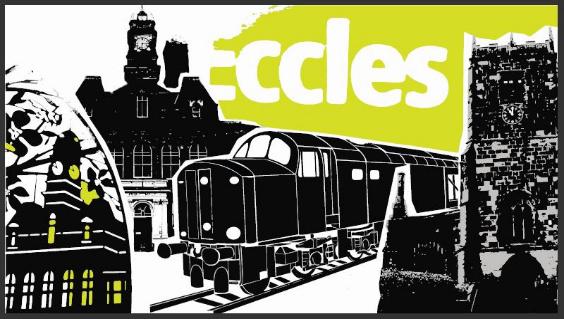 ---
"Standard" timetable resumes on 30th July 2018 - most trains from/to Piccadilly
Northern will re-introduce their "standard" timetable on Monday 30th July. Most trains will run from/to Piccadilly, not Victoria. Trains will be hourly plus one extra in the morning to Victoria and plus one extra from Victoria in the evening. See our timetable page for full details.
Monday - Friday times:
To Deansgate, Oxford Road and Piccadilly
06.10, 07.14, 08.14 and hourly until 16.14, 17.15, 20.14, 21.14, 22.19, 23.20
To Victoria
08.43, 18.07, 19.07, 00.20
To Liverpool Lime Street
05.35, 06.37, 07.37, 08.38 and hourly until 16.38, 17.09, 17.38 and hourly until 20.38, 21.36, 22.40, 23.34, 23.47FO
(05.35, 17.09, 18.38, 19.38, 23.47 from Victoria, others from Piccadilly)
---
Cancellations Produce Chaos
The number of train cancellations since the new timetables were introduced on 20th May 2018 has been horrendous. See here for a list of cancellations of trains calling at Eccles from the May 2018 timetable change onwards.
The interim report of their inquiry into the causes of the May 2018 timetable disaster has been published by ORR. Network Rail, Northern and the DfT are all blamed for not foreseeing that the May 2018 timetable could not be introduced smoothly, and the inquiry found that no-one took overall control once the chaos became apparent. ORR Press release and link to report.
---
Fewer trains at Eccles from 20th May 2018
Northern cuts services and confuses passengers
FRECCLES is angry that there will be fewer trains calling at Eccles from 20th May, not more. We also think that the pattern of trains to/from different Manchester destinations is not well thought out and will confuse passengers.
Up to a month ago Northern had planned to give Eccles 6 more trains each weekday than at present, in line with their franchise commitment. They have now announced that we will get 4 fewer trains each weekday than at present. Eccles will lose 2 trains to Liverpool in the morning peak period, and 2 trains to Manchester in the evening peak period. We are not getting the additional promised services which would have given Eccles 2 trains per hour in the peak periods.
On Saturdays, to Manchester, Northern are withdrawing one train in the morning peak and 2 in the evening peak. To Liverpool, they are withdrawing one train in the morning peak and one in the evening peak.
Most trains will run to/from Piccadilly instead of Victoria. The Piccadilly service will be hourly except for a 3 hour gap in the early evening, when services will run to/from Victoria. Piccadilly trains will also call at Deansgate, Oxford Road, Manchester Airport and all stations to Wilmslow or Crewe. There will still be one additional train to Victoria in the morning on Mondays to Fridays.
Towards the west all trains will run to/from Liverpool Lime Street. The proposed Chester to Leeds service calling at Eccles in peak periods will not commence in May 2018.
The official reason for these cuts is the delay in completion of the Manchester - Preston electrification by Network Rail, and the consequent shortage of diesel-powered trains for Northern. Why this should affect the Eccles line so severely is a mystery.
If you are concerned by these changes, we suggest you complain to Northern by phoning 0800 200 6060 or emailing enquiries@northernrailway.org, and consider joining FRECCLES to help us fight for a decent train service.
You can find full details of the changes on our timetable page.
Read the FRECCLES and FrOPS press release here
---
Who are FRECCLES ?
FRECCLES was established on 15th September 2005, the 175th anniversary of the opening of the world's first main line passenger railway between Manchester and Liverpool through Eccles on 15th September 1830. Working in partnership with ACoRP, TfGM, Salford City Council, Northern Rail and Network Rail, we aim to improve the environment and passenger services at Eccles Station and the immediate surrounding area and to put the station back into the heart of the community.
Now in its twelfth year, FRECCLES can claim to be well on the way to achieving many of these objectives. Certainly we have the strong support of all the above organisations, which recognise the work we have carried out to transform the appearance of the station. This recognition has been accompanied by significant funding which has heped us, for example, in our gardening work. However, we still lack a frequent train service - surely the most important facility one would hope to find at a railway station - and one which our many supporters in the local community expect us to correct at a stroke !
Freccles has a membership of around 40 and at least half of these are very active, being members of at least one of our subgroups - Service Development, Gardening, Heritage, Publicity and Funding. Some of these groups have separate sections on this website where you can find out more about their work. If you would like to join us, or to find out more about FRECCLES, you can contact us by email at info@freccles.org.uk or visit the Freccles page on Facebook.
---