FRECCLES - Friends of Eccles Station
---
* Click here for real-time train running information for Eccles *
---
Action to reduce overcrowding announced
Northern have announced that from the December winter timetable change, some trains on the Chat Moss line through Eccles will see an increase in capacity where demand is higher, running as 4 carriages instead of 3.
---
Proposed Ticket Office Closures
31st October - PROPOSED BOOKING OFFICE CLOSURES WITHDRAWN !
FRECCLES has been responding to the proposals by the Rail Delivery Group to close many ticket offices throughout England and to reduce the hours of others. Our Chair, Steve Hopkins, prepared an excellent coordinated response on behalf of FRECCLES which has been sent to Transport Focus who are undertaking the consultation on this issue. In addition, our views have been shared with Andy Burnham, Greater Manchester Mayor, who has been proactive in opposing these changes and we received a very positive response from his office. Other members have sent individual responses to Transport Focus in relation to the planned changes by both Northern and Avanti West Coast. We shall have to see what will be the impact of the opposition to these changes but there is some optimism that it may be effective in altering the plans. You can read more about this issue by looking up 'Ticket Office Closures' on the internet.
---
FRECCLES Members and Supporters Newsletter - November 2023
Please see the latest issue of our Members and Supporters Newsletter
---
Strong Recovery after pandemic at Eccles Station - click here for details
---
New Artwork at Eccles Station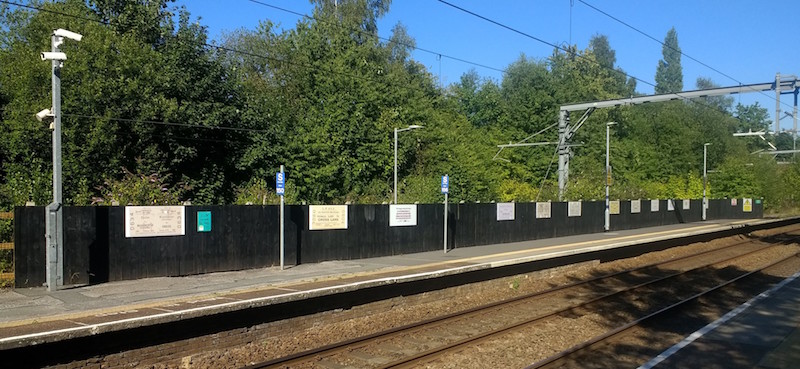 FRECCLES has installed series of posters of old tickets on the new fence on platform 1 at Eccles Station. Please come along and have a look at them. They have been generously funded by Northern and TfGM.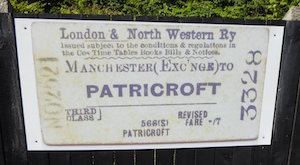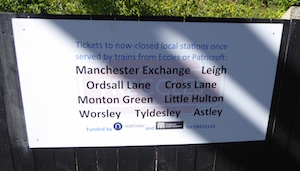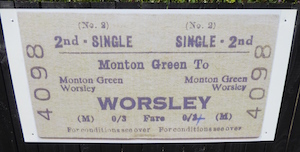 ---
Who are FRECCLES ?
FRECCLES was established on 15th September 2005, the 175th anniversary of the opening of the world's first main line passenger railway between Manchester and Liverpool through Eccles on 15th September 1830. Working in partnership with ACoRP, TfGM, Salford City Council, Northern Rail and Network Rail, we aim to improve the environment and passenger services at Eccles Station and the immediate surrounding area and to put the station back into the heart of the community.
Now in its fifteenth year, FRECCLES can claim to be well on the way to achieving many of these objectives. Certainly we have the strong support of all the above organisations, which recognise the work we have carried out to transform the appearance of the station. This recognition has been accompanied by significant funding which has heped us, for example, in our gardening work. However, we still lack a frequent train service - surely the most important facility one would hope to find at a railway station - and one which our many supporters in the local community expect us to correct at a stroke !
Freccles has a membership of around 40 and at least half of these are very active, being members of at least one of our subgroups - Service Development, Gardening, Heritage, Publicity and Funding. Some of these groups have separate sections on this website where you can find out more about their work. If you would like to join us, or to find out more about FRECCLES, you can contact us by email at info@freccles.org.uk or visit the Freccles page on Facebook.
---