FRECCLES - Friends of Eccles Station
---
* Click here for real-time train running information for Eccles *
---
New murals at Eccles Station
Art and design students from Pendleton centre, Salford City College, worked with Freccles in 2018-9 to replenish the artwork on the Liverpool platform. We asked them to show the town as they see it - they've done a fantastic job. We have preserved the old banner (also by the college art and design students) in one of the new panels.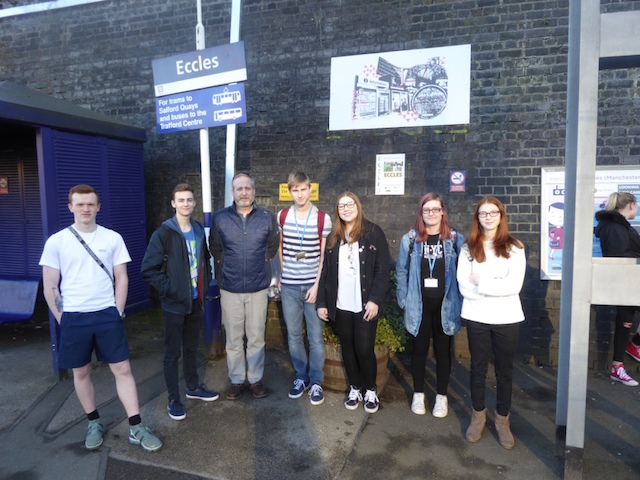 Details and images of all the new panels can be found here.
---
Recent Train Performance
Want to know how well or badly the trains at Eccles ran last week ? The following links take you to reports on the excellent Recent Train Times website. You can vary the selection criteria and what results are displayed to your own convenience.
Mon - Fri : Eccles to Manchester Piccadilly - last 4 weeks
Mon - Fri : Eccles to Manchester Victoria - last 4 weeks
Mon - Fri : Manchester Piccadilly to Eccles - last 4 weeks
Mon - Fri : Manchester Victoria to Eccles - last 4 weeks
Sun : Eccles to Manchester Piccadilly - last 4 Sundays
Sun : Manchester Piccadilly to Eccles - last 4 Sundays
---
More trains and destinations from May 2019
At last there will soon be more trains calling at Eccles, when some Chester - Leeds trains will call additionally at Eccles.
From 20th May 2019 some additional trains in the peak periods (7 - 10 a.m., and 4 - 6 p.m.) will call at Eccles, including some of Northern's new Chester - Leeds trains (via Manchester Victoria). A full timetable for all trains calling at Eccles from 19th May 2019 is available from our Timetable page.
However this improvement still falls a long way short of FRECCLES' demand for 2 trains per hour throughout the day, and is still one train short (in the morning peak period towards Manchester) of Northern's franchise specification for December 2017. FRECCLES will continue to campaign for this long overdue aim of 2 trains per hour.
---
March 2019 - New planters at Eccles Station
New planters, funded by a grant from the Association of Community Rail Partnerships, have been installed on the Liverpool platform.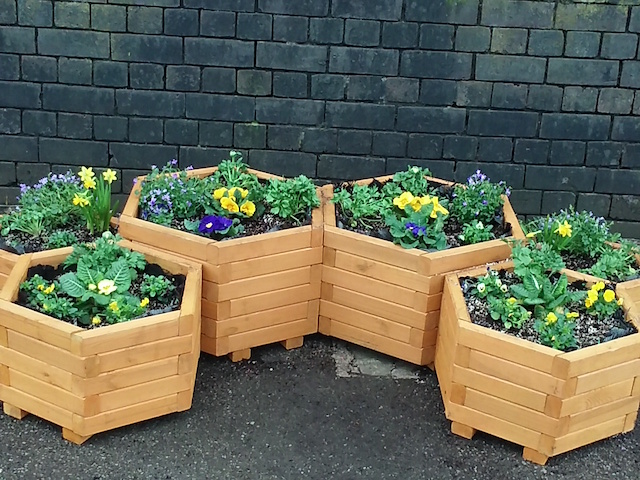 ---
February 2019 - RMT Strike Action Suspended
The RMT strike action has been suspended, and normal Saturday services will resume on Saturday 16th February.
---
Who are FRECCLES ?
FRECCLES was established on 15th September 2005, the 175th anniversary of the opening of the world's first main line passenger railway between Manchester and Liverpool through Eccles on 15th September 1830. Working in partnership with ACoRP, TfGM, Salford City Council, Northern Rail and Network Rail, we aim to improve the environment and passenger services at Eccles Station and the immediate surrounding area and to put the station back into the heart of the community.
Now in its twelfth year, FRECCLES can claim to be well on the way to achieving many of these objectives. Certainly we have the strong support of all the above organisations, which recognise the work we have carried out to transform the appearance of the station. This recognition has been accompanied by significant funding which has heped us, for example, in our gardening work. However, we still lack a frequent train service - surely the most important facility one would hope to find at a railway station - and one which our many supporters in the local community expect us to correct at a stroke !
Freccles has a membership of around 40 and at least half of these are very active, being members of at least one of our subgroups - Service Development, Gardening, Heritage, Publicity and Funding. Some of these groups have separate sections on this website where you can find out more about their work. If you would like to join us, or to find out more about FRECCLES, you can contact us by email at info@freccles.org.uk or visit the Freccles page on Facebook.
---